Innovating for a rare disease
Our team focuses on hemophilia A, a rare bleeding disorder with no cure. Our research is working toward developing innovative treatments to enable patients with hemophilia to live the lives they choose.
Hemophilia A is a rare genetic blood-clotting disorder that primarily affects men.1 Although there is not a cure yet, this disease can be treated effectively by replacing the missing clotting factor VIII. Bayer is dedicated to continuing to research and develop innovative therapies and approaches to serve the evolving needs of the hemophilia community around the world.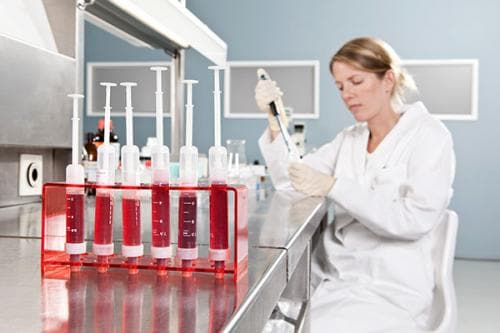 Occurrence of hemophilia A
Hemophilia is a largely inherited disorder.
Treatment of hemophilia A
Standard treatment for hemophilia A works by replacing the missing clotting factor, and is adjusted to suit the individual's needs and severity of the condition.2,3
This form of replacement therapy can be approached in two forms, including preventative (prophylaxis) and on-demand. Prophylaxis treatment involves regular and frequent infusions of FVIII to ensure effective levels are maintained in the body and to prevent episodes of bleeding and subsequent joint and muscle damage. On-demand treatment involves the use of FVIII to treat an episode of prolonged bleeding.2